My friend who designed this website insisted I had to have a page "about me".
He explained that I am offering to heal another person and that they want to know about me as a human being.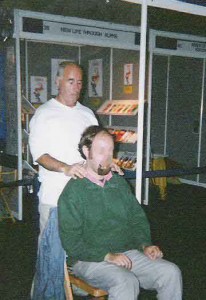 There is the problem. I am a full time healer. When I am not doing that I am teaching yoga or doing a psychic reading.
When I am not doing that I am in the gym. When not in the gym I am tearing about London doing something or other.
My life is like anybody else's. Too much to do, not enough time to do it in !
I can handle it well as I practice meditation and yoga and I know how to pace myself.
I like to travel and right now can't decide between the far east and south America.
Organic gardening is my passion and like a lot of people I dream of an organic small holding with a Holistic centre attached. Dreams are great.
For friends I do aura drawings. I once attended a yoga festival in France where I did this as well as healing, great fun.
I also do a lot of volunteer work such as Reiki "Drop-In" sessions, 15 minute Reiki Tasters with charity donations at St Thomas' Hospital, or at the Mind Body and Spirit events.
That is about all I can think of right now. As I get feedback I will expand this. At the moment I can't think of anything useful.